Entirely in the spirit of the Christmas holidays, our campaign brought joy, emotion and positivism into the daily lives of our patients. It was one of those moments when we proved we are one family. A family that is together even on around the Christmas table.
We are closing this year, as the year of challenges. Grateful that we are together, that we shared difficult and joyful moments, wishing each other health and many more shared unforgettable moments!
https://www.flagman.bg/article/230998
Surprising Christmas present touched the patients of the dialysis center "NephroLife" in Burgas
In 2020, an uninvited guest entered everyone's life – Pandemic of Covid-19. It changed our daily lives, our habits, invaded our homes and took away a lot of us – work, social life, security. In these uncertain times, the desire of the entire NephroLife team is to help their patients in every possible way – in addition to the provided medical care, to try to give them a hope for better times. That is why the team of the Burgas dialysis center "NefroLife" decided this year to delight its patients with different Christmas presents for the brightest Christian holiday. Full of care and desire, the health institution prepared packages full of basic food products to all their patients.
Today, some of them received their packages from the head nurse Biserka Nikolaeva and expressed their great gratitude from the "NephroLife" team in front of Flagman.bg. All that, you can see in the video where they share touching words and their opinion about the care provided by the NefroLife team.
The campaign of NephroLife dialysis center "Christmas is Hope" is held from December 23 to 25. Prepared packages are provided for all patients, as some of them were delivered to the patients` doorstep by the company's transport department.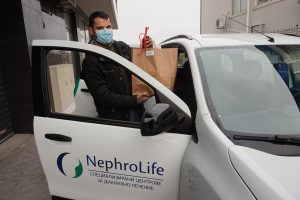 Every bag is full of basic food products, properly packaged for the brightest Christian holiday to become part of the patient's Christmas table.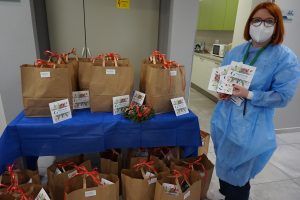 "Patients become part of our lives and we become part of theirs. For us, their health comes first, so we provide the best patient care in accordance with all international standards and medical practices. But our wish is not only to maintain the health of their bodies, but also to take care of their spiritual and emotional health as well. To give them the Christmas emotion, although far from home ", commented Silvia Gyuleva.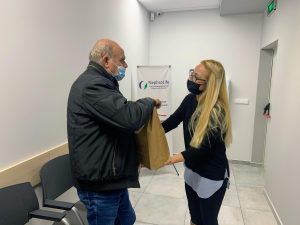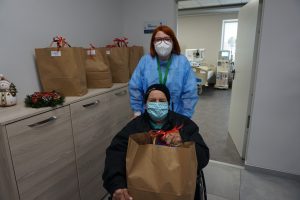 NephroLife Dialysis Center is the newest and most advanced clinic in Bulgaria. We have created a specialised team of doctors, nurses and dietitians who use up-to-date medicaments and high quality medical products and supplies. This is the first dialysis center in Bulgaria to introduce the high-tech practices already applied in Israel.
NephroLife Dialysis Center is situated in the city of Burgas, with a surface area of 1,200 sqm on Transportna str.(behind MALL Plaza)
The clinic provides brand new high quality medical equipment and consumables from Fresenius Germany which is a global healthcare company specializing in life-saving medicines and technologies for infusion, transfusion and clinical nutrition.
At NephroLife they strive to do their best to make patients feel like at home and make their stay as comfortable as possible.
Provided services include:
Consultations with a nephrologist
Consultations on temporary and permanent dialysis catheters
Periodic tests and monitoring of the entire physical condition
Consultations with a nutritionist who provides instructions and specific dietary advice
Consultations with qualified psychologists
Transport services
Free parking space provided for dialysis patients
Free Wi-Fi access anywhere in the center.
In addition to the impeccable medical care and the pleasant and cozy atmosphere patients will enjoy a light meal and refreshments while watching their favourite TV shows or radio programmes by provided personal headphones. At any time patients can be consulted by the doctors or nurses available in the treatment room during the session, regarding all the questions that might concern them.
For more information and questions you can contact the dialysis center "NephroLife" on tel .: 056 555 588.