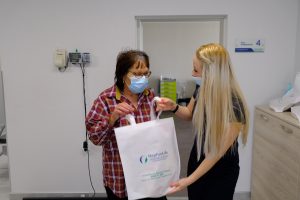 On the occasion of the bright Easter holidays, dialysis center "NephroLife" provided gifts to all its patients. In addition to the traditional Easter cakes, the dialysis patients also received a special surprise – thematically made Easter decorations, made by children with special educational needs from specialized day center.
"Although the COVID-19 pandemic is currently at the forefront, we are helping all patients in need of dialysis. We realize that the situation affects not only their general but also mental health. This is the main reason why we are preparing such campaigns, aiming to add a little color to the gray daily routine. Most of the holidays we are spending together due to the nature of dialysis treatment, which on the other hand brings greater cohesion and endearment between the team of the clinic and the patients. We thank all those who trust us and wish them health and well-being, "commented the administrative manager of the health institution Silvia Gyuleva.
Following this initiative, we are announcing a new campaign. Top nephrologist Dr. Nikolay Todorov will have free consultations in the city of Burgas on May 21st. The consultations with our medical manager are aimed at patients in pre-dialysis and dialysis stages, for which a highly specialized and reliable assessment of the health condition is needed. Those wishing to make an appointment can call tel. 056/555 588 and 0879/084 777, or directly come at NephroLife Dialysis Center on Transportna Street (behind Mall Plaza). Due to the strong interest in the previous campaign with Dr. Todorov, the health institution advises patients do not wait for the last moment to make an appointment!
Dr. Nikolay Todorov Medical Manager and Chief Nephrologist at the NephroLife Dialysis Center graduated the Medical School in Sofia in 1977, taking degree in Internal Medicine in 1983 and Nephrology in 1985. He specialized in "Temporary vascular access for hemodialysis – subclavian vein catheterization by using Seldinger method for hemodialysis patients" in Frankfurt, Germany in 1984 and later on, introduced the method in Bulgaria.
In 1994 he specialized in "Preparing patients for kidney transplantation and treatment after the transplantation" as well as "Inserting permanent  tunnel catheters in patients undergoing hemodialysis" in Erasmus Hospital in Brussels, Belgium in  Nephrology and Transplantation Clinics with Prof. Vanerogen and Prof. Abramovich.
He has a number of publications in the field of vascular access in hemodialysis patients and reports at scientific conferences.