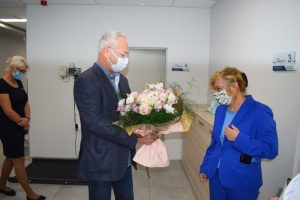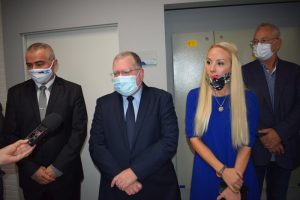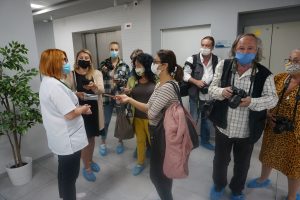 On October 13th, during his first visit to Burgas, the Ambassador Elron get acquainted with the medical practices applied in the first dialysis center in Bulgaria, introducing Israeli know-how in the sphere of dialysis. He was accompanied by Yordanka Ananieva (Deputy Mayor of the cit5y of Burgas), Dr. Loris Manuelyan("Municipal Doctor" of Burgas region) and Orlin Mandov – Honorary Consul of Israel in Bulgaria. They were welcomed by the medical team of the clinic and Mr. Ran Fuchs – the investor and owner of the dialysis center.
Mr. Ran Fuchs introduced to the guests the medical equipment and the high medical standard applied in dialysis treatment at NephroLife and also added:
"NephroLife is the first dialysis center in Bulgaria to introduce the high-tech practices already applied in Israel in the sphere of dialysis and high-quality equipment and consumables of the global company Fresenius – Germany, specializing in life-saving technologies for infusion, transfusion and clinical nutrition. Leading news from our clinic is that from the end of October, for all patients who need hemodiafiltration, the clinic will provide brand new Fresenius 5008S machines. By adding hemodiafiltration as part of the medical practices applied in our center, we will cover all possible aspects of dialysis treatment".
We also provide to our patients the opportunity to consult with world-renowned specialist prof. Thalia Weinstein with extensive experience in the field of Nephrology and Dialysis treatment. The clinic maintain a high medical standard and we are always up to date with the latest trends and practices applied in sphere of dialysis ".
In front of the journalists the Ambassador Yoram Elron specified the areas for future Israeli investments in Burgas emphasizing that medicine still remains one of the most important.
"The biggest Israeli investment in Burgas is in the field of medicine. The investors built the dialysis center NephroLife with the assistance of the Municipality of Burgas. I hope the Israeli investments in the region to be increased in all areas, but especially in medicine, which is the purpose of my visit here "said the Ambassador.